Lily's Lumineon
TBA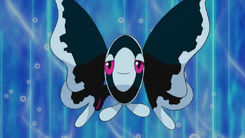 General
Trainer:
Lily
Gender:
Female
Details
Lily's Lumineon is a water-type Pokemon owned by Lily.
Biography
Edit
First seen as a Finneon swimming at the aquarium at the her family's home in Olympiad City, as a Finneon it was the only one of it's kind living in the area and it seemed to be feeling alone. Lily revealed that Finneon belonged to her and proceeded to battle Ben's Staryu at the field in the backyard. Finneon lost the match but it's Water Gun managed to hit Staryu.
TBA
Known Moves
Edit
References
Edit
Ad blocker interference detected!
Wikia is a free-to-use site that makes money from advertising. We have a modified experience for viewers using ad blockers

Wikia is not accessible if you've made further modifications. Remove the custom ad blocker rule(s) and the page will load as expected.