Izzy's Venonat
Ijī's Kongpang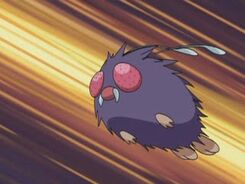 General
Trainer:
Izzy
Gender:
Male
Ability:
Compound Eyes (not yet activated)
Current location:
At Home in Neighborly Town
Details
Traded to:
Izzy
Traded for:
Eliza's Slugma
Original trainer:
Eliza
Izzy's Venonat is a bug/poison-type Pokemon that was caught initially by Eliza but she traded him for Izzy's Slugma because Venonat preferred Izzy over Eliza. He is also the eight Pokemon obtained by Izzy while traveling in his original journey in Sinnoh.
Biography
Edit
TBA
While with Izzy at the Sinnoh League, Venonat fell off the stadium where it was standing and landed on the battle field between the battle of Ben and Kellyn. Because of this, Venonat accidently became Kellyn's fifth Pokémon during the battle. It tried battling against Ben's Magmar with Stun Spore and Psychic, but it failed miserably, eventually knocking it out and decreasing Kellyn's numbers down to two, tying with Ben.
Known Moves
Edit
References
Edit
Izzy's Pokémon
On hand

•

•

•

•

•

At Home

•

•

•

•

•

•

•

•

•

•

•

•

•

•

•

•

•

•

•

•

•

•

•

•

•

•

•

•

•

•

•

Traded

Given Away

Ad blocker interference detected!
Wikia is a free-to-use site that makes money from advertising. We have a modified experience for viewers using ad blockers

Wikia is not accessible if you've made further modifications. Remove the custom ad blocker rule(s) and the page will load as expected.