Eliza's Pelipper
Iraiza's Pelipper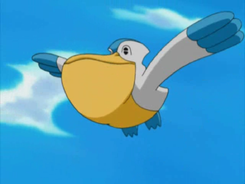 General
Trainer:
Eliza
Gender:
Female
Ability:
Keen Eye
Current location:
With Aria
Details
Evolved:
Unknown amount of episodes as Wingull
This Pelipper is a water/flying-type Pokémon owned by Eliza.
Biography
Edit
Wingull was first seen flying around happily the Poacher before being attacked by his Pelipper, injuring it. Upon searching for her Electrike, Eliza scooped her up and brought her to go find the Poacher. While battling the Poacher, Wingull revealed that she knew Water Gun and Aerial Ace, helping Officer Jenny.
In the Hoenn era, Eliza decided to become a Pokémon Coordinator again and brought along her pokemon, including Wingull.
Known moves
Edit
References
Edit
Eliza's Pokémon
On hand

•

•

•

•

•

•
Traded